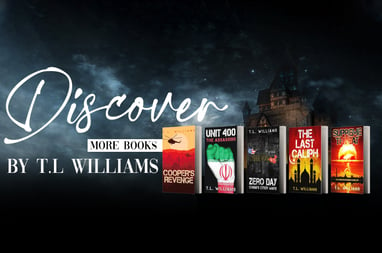 T.L. Williams is a veteran Central Intelligence Agency Operations Officer who conducted and oversaw covert operations in Asia, Europe, and The Americas. There, he was focused on the clandestine collection of critical intelligence with an emphasis on denied-area operations. Williams conducted recruitment operations against East Asian, Middle Eastern, East European and Latin American targets. As Chief in CIA Stations he partnered with foreign allies in counterterrorism, counternarcotics and counterproliferation operations. He trained with Special Forces early in his career and subsequently supported military operations around the globe.
Williams' awards include CIA's Career Intelligence Medal, the Nato Service Medal, The Bosnian Service Medal, and the National Intelligence Medal from the Government of Taiwan. He is the creator of the Logan Alexander Thriller series. His award winning debut novel, Cooper's Revenge, was published in 2013. Books in Williams' Logan Alexander series have won awards from Reader's Favorite, The Florida Writer's Association and the Florida Author's and Publisher's Association.
The Ponte Vedra Beach-based writer is a graduate of Bridgewater State University, where he studied anthropology, philosophy and literature, the School for International Training, and Long Ridge Writer's Group. He is also a graduate of the U.S. Department of State's Mandarin Chinese Language program, and a graduate program at Johns Hopkins School for Advanced International Studies.Williams is the recipient of the American Political Science Association's Congressional Fellowship as well as a Tufts University Latin American Teaching Fellowship. Prior to his tenure at CIA, Williams taught at the University of San Carlos in Guatemala City, worked for Bell Helicopter training the Imperial Iranian Army-Air Force in Esfahan, Iran and taught at Bunka University in Tokyo, Japan.
Williams is a member of Our Lady Star of the Sea Catholic Church, The Florida Authors and Publishers Association, The Florida Writers Association, The World Affairs Council of Jacksonville, The Association of Former Intelligence Officers, The CIA Retirees Association, American Pilgrims on the Camino, and Mickler's Landing Turtle Patrol. He and his wife, Carol, live in northeast Florida.